[Introductory Note: I had the privilege of serving as the conference rapporteur for the ECIL 2018 Conference in Oulu, Finland.  It was an honor to be trusted by the conference organizers with this role. Onsite I spoke from an outline/notes. Many people asked me to provide a text of my remarks and so this is a post-delivery re-construction.]
ECIL is always a highlight conference. I extend my congratulations to the organizers on a successful conference. The labor involved is immense.  And, I am grateful not only to our organizers but the reviewers, editors, session chairs, etc. as well as the staff of our hotels and catering.  I also wish to recognize those in our personal and professional lives who contributed to our ability to be here by taking on our tasks and responsibilities, at least temporarily, and leaving us free to gather together for ECIL. Finally, to all of you who presented and/or engaged in formal and informal conversations, thank you. And, I beg your forgiveness and patience as I came in and out of your sessions in order to attempt to sample across the conference as broadly as possible in preparing these remarks.
In here welcoming remarks, Sonja reminded us of the theme of this conference – our focus on information literacy in everyday life. And, she exhorted us to meet each other and "EXCHANGE IDEAS!"
I think we have succeeded.
A concept that has shaped my own work as a librarian educator for the past decade is the notion of a community of practice. A community of practice is a group of people who share a concern or a passion for something they do and learn how to do it better as they interact regularly and reflects the fundamentally social nature of human learning.
Jean Lave and Etienne Wenger first articulated this concept in their book Situated Learning: Legitimate Peripheral Participation, which Wenger then extended in his 1998 work Communities of Practice: Learning, Meaning, and Identity.
A few years ago I had the great privilege of being coached by Etienne and his partner Beverly Wenger-Trayner on design principles for fostering a community of practice. In that experience I came to understand the depth of this seemingly simple concept.
So, I'll begin by observing how ECIL is maturing as a community of practice. There are clearly emerging roles, culture, methods, practices, rules, traditions, etc. For example, there will always be dancing!
ECIL has so far avoided the negative aspects that can develop in a community of practice, the setting up of barriers to keep people out.  I am proud to be a member of this community.
As I prepared these remarks, I found my thoughts and reflections telescoping in and out. I was inspired in part by the artwork in the hallway outside this room. If you haven't yet noticed, take a look. At first you will see silhouettes of individuals and groups. But, come closer and the components come into focus. The images are made up of overlapping printed words – works like excitement, spirit, vitality, and imagination. So appropriate for this ECIL gathering!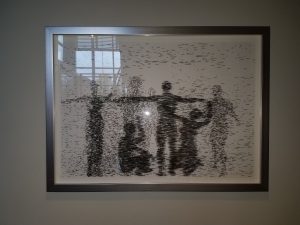 ---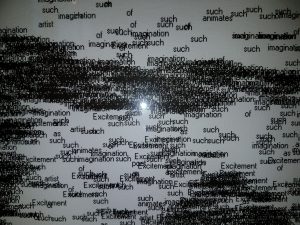 As I reflected closely on this ECIL 2018 conference in particular, I noted that the methodological aspect of our investigations into information literacy research and practice is strengthening tremendously. I also noted the widening breadth of considerations, particularly highlighted and brought to the foreground by the theme of this conference.
I'll personally be taking with me the taxonomy that was introduced in the keynote address by Frans Mäyrä: functional literacy, critical literacy, and creative literacy. This taxonomy is a lens through which we can consider many of the things spoken about at this conference.
I'm also pleased to note the increased attention to disadvantaged and oppressed peoples and their information literacy needs and practices. Many papers took as their starting point a focus on a particular group of people. This point is the core of what I would challenge us to pursue next in the collective deepening of our scholarship. I want to see us build from our stronger methodological base to more sophisticated analysis of the diversity within our populations.  I would challenge us to look carefully at the subpopulations within our studies and bring an intersectional lens to our work.
Similarly, I believe we need to improve our measures of the information environments that are the contexts of information literacy. Currently the information environment is typically treated as a constant and uniform variable even though we easily can see that it is not. We also cannot – and should not – assume a uniformity of experiences of the information environment within a given community.
We need to look not only at those populations that are socially identified as disadvantaged but also at those whose oppression exists within the larger context, hidden by systemic factors – those structural factors that blind us but which our research approaches could reveal. This leads me to my belief that in doing so we would find power in avoiding deficit models and theories of information literacy and instead using models of capabilities, capacities, and participatory inquiry methods. In sum, I am putting forth that we should adopt an epistemology of inclusion, equity, and social justice.
So, as I come to a close, let me share three words that I hope will guide our next stage of growth as this information literacy scholarship community of practice.
Contextual – We must understand information literacy in context. In doing so, we will recognize and reveal the heterogeneity of that context and thus of the variety of information literacy experiences and practices in our communities.
Connected – I'd like to consider this on multiple levels. First, at the individual level I think we need to connect information literacy across the various spheres of individual experience and across the lifespan. E.g., respectively, how does information literacy in the workplace connect with information literacy in the home or in civic life? And, what are the long-term implications of differential early experiences with information literacy or are there connections between life events and propensity toward lifelong information literacy practices?
Second, we should consider connections at the community or group level. What are the impacts of peers and social connections on information literacy skill development? Also, what is the collective impact of multiple information literacy organizations functioning in a particular community? How do these organizations create an information literacy network or social fabric for our communities? How does a collective of organizations function compared to that of a single organization? As a side note, I hope to see some of you in Kaunas, Lithuania in October for the UNESCO GAPMIL Conference, which has as its theme this year "media and information literate cities" and thus encourages this community lens perspective.
Comparative – Finally, I'd like to encourage us to move towards more comparative frameworks in our research studies. At the micro level, for example, detailed comparisons of instructional practices could help us develop more strategic information literacy interventions. We know that many practices are effective. What we need to ask now is not just is x-practice effective or is y-practice effective but is x-practice or y-practice more effective for what purpose in which settings? Likewise, at a more macro level, comparative city, country, or regional studies on information literacy policy, frameworks, and practices could help us understand the interplay between information and social policy and legal regimes and options for information literacy programs.
I will leave you with a final thought as we return to our homes and look forward to our re-convening at ECIL2020. I was reminded today of the concept of "the prepared mind" – the mindset that is the capacity to benefit from what one encounters. As we leave this place and each other, we leave with a newly prepared mind.  We are poised to benefit in new ways from what we encounter. We came together to exchange ideas. We leave inspired, challenged, and nourished in our information literacy work.  Thank you.

This work can be shared under this licence: Creative Commons Attribution Non-commercial 4.0 international.